Diriamba, Carazo, Nicaragua.
For Sale
$399,000 - Airbnb investment, Apartment, exclusive listing, Home, Investment Property, Residential, Single Family Home, Vacational Property, Villa
Dream home in Diriamba, Carazo, Nicaragua. This is a Quinta Home on 0.73 acres located in Villas de San Sebastian development. With this great location, less than 3 minutes from the town and close to Panamericana highway. Also, this development is less than 15 minutes from the towns of Jinotepe and San Marcos and less than an hour from the cities of Managua and Granada.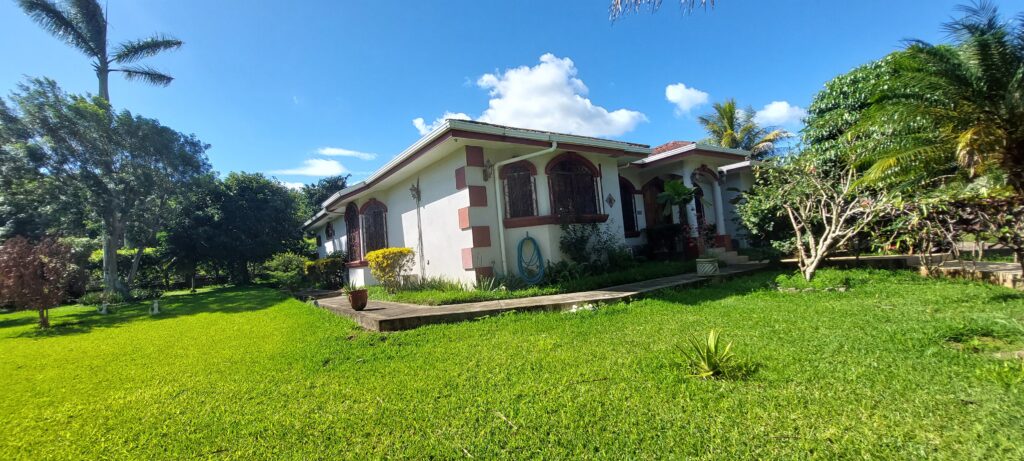 This is an amazing property just north of Diriamba in a small peaceful community. Far enough from the hustle and bustle to be able to enjoy the quiet setting, yet only a couple minutes to all your shopping needs and afterward a night out of entertainment.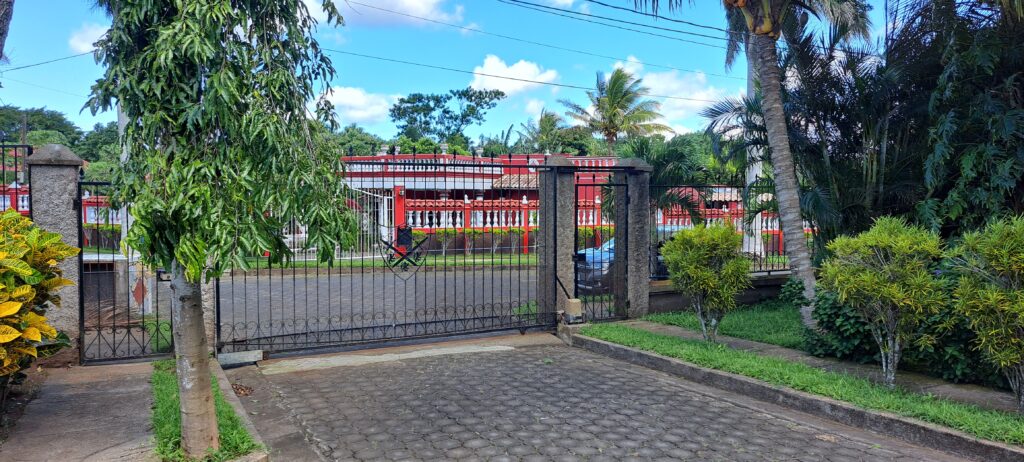 The front entrance has an electric gate opener for vehicles as well as pedestrian gates with electric openings on each side.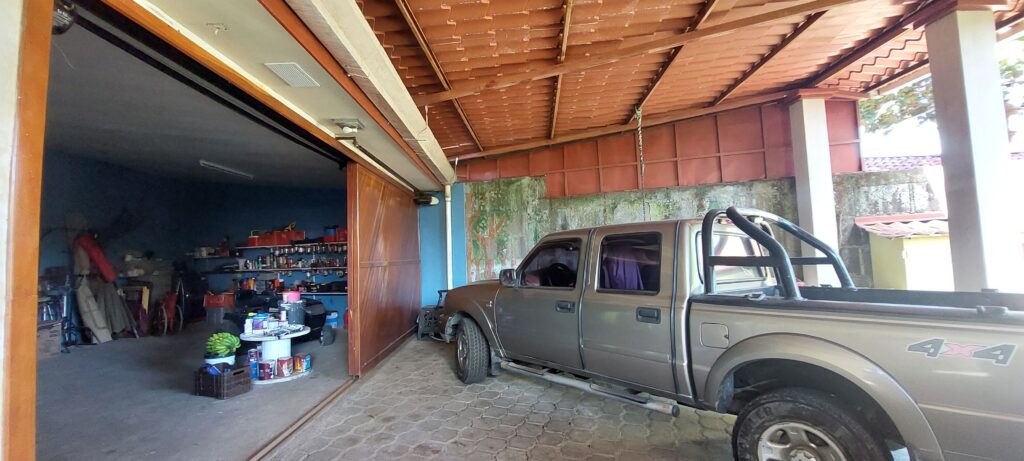 There is an oversized double garage with automatic garage door opener and room for storage. Plus a covered double carport as well.
Large Luxurious Living Area Rooms
This well-laid-out home is beautiful with large luxurious rooms with lots of arched windows that provide fresh air and light. All the rooms in the house have air conditioning for total comfort that can be adjusted individually for each room.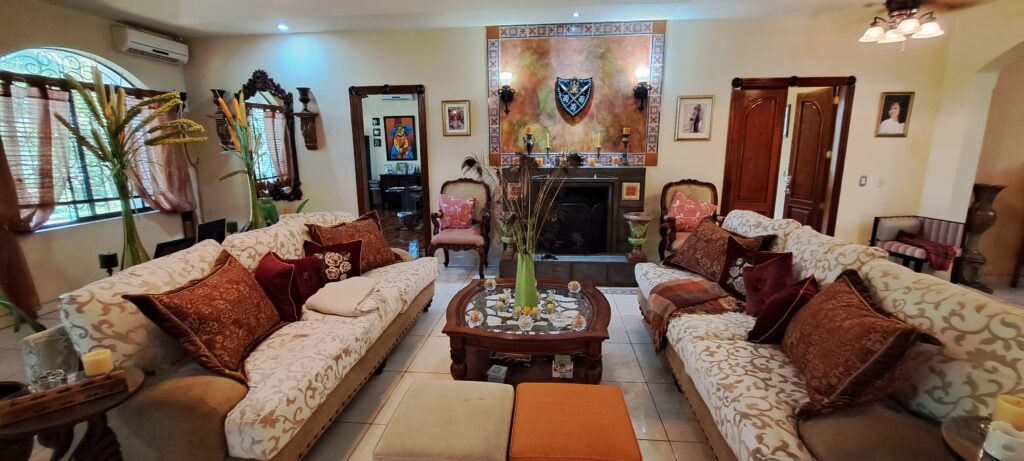 This is a beautiful home on an enclosed lot with lots of green space. Means you have plenty of room to build a pool. With various walkouts from different rooms in the house to quiet shaded sitting areas. The living room is spacious with a stunning decorative fireplace.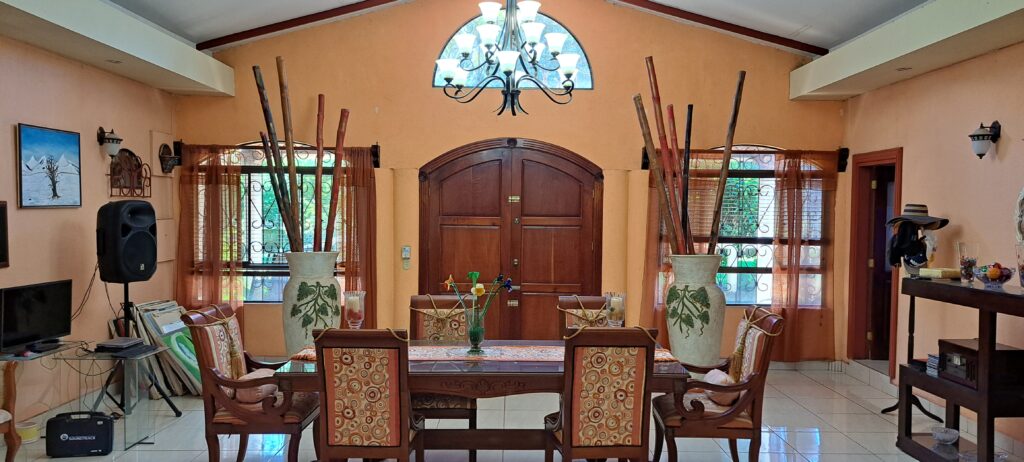 Through the three ornate archways is the formal dining room with high ceilings and recessed lighting. Plus, there is a breakfast seating area next to the kitchen. And a guest bathroom and a glass sliding door walkout to a patio right by the kitchen.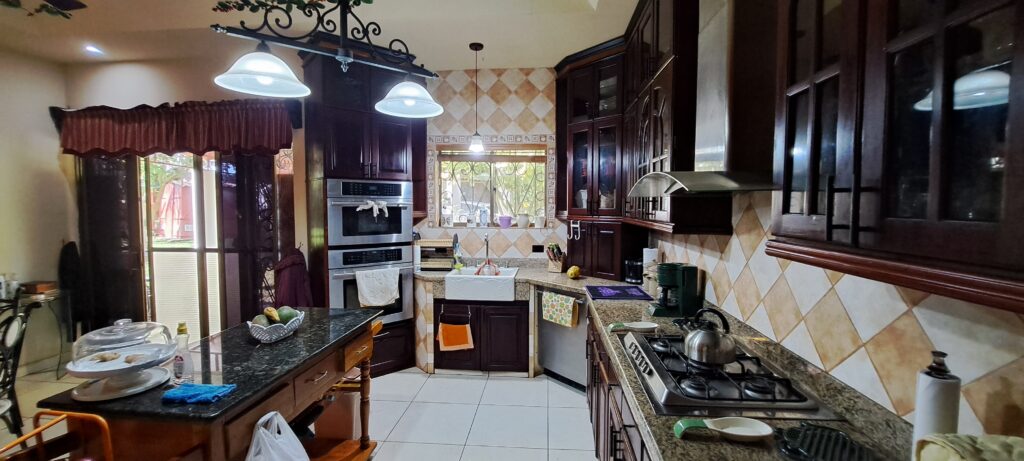 The large kitchen has a double oven set up for the baker in the family and the large stove has a convenient overhead heat vent. As an extra chef's delight is a large walk-through pantry with loads of storage space tucked behind the fridge.
Main Bedroom Promotes Wedded Bliss!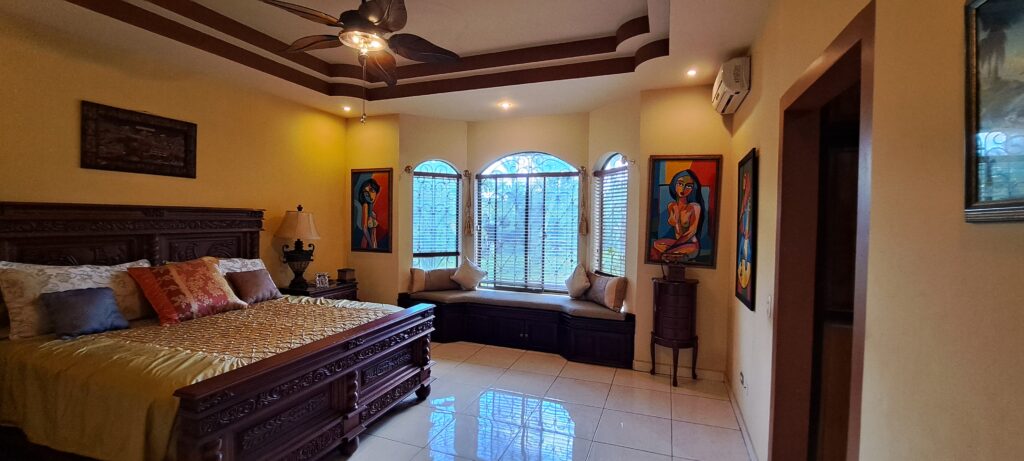 This home will give wedded bliss! This huge main bedroom has a built-in reading bench for the huge bay window. And from there is a walkthrough to matching walk-in closets, because everyone needs their own space.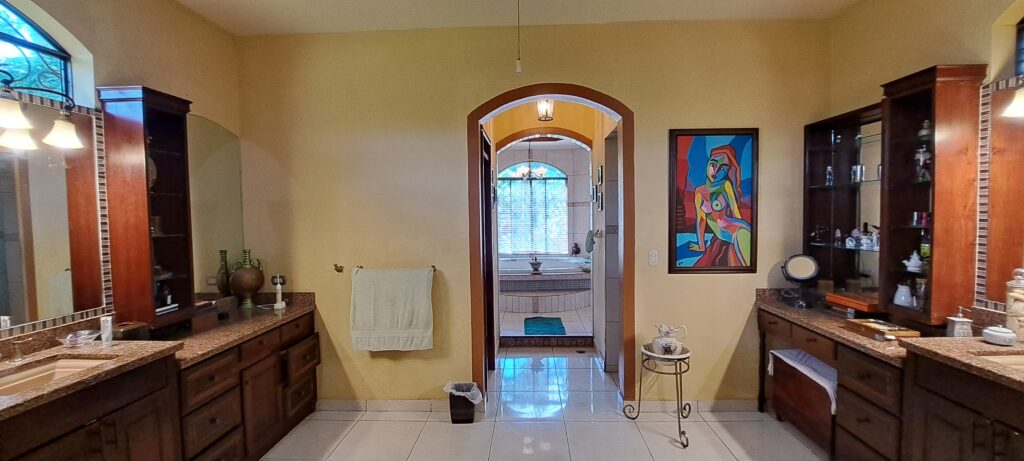 Continue through the walk-in closets to find a huge dressing room with sperate areas on each side of the room with vanity mirrors and personal sinks. Undoubtedly this means you will never get in each other's way again.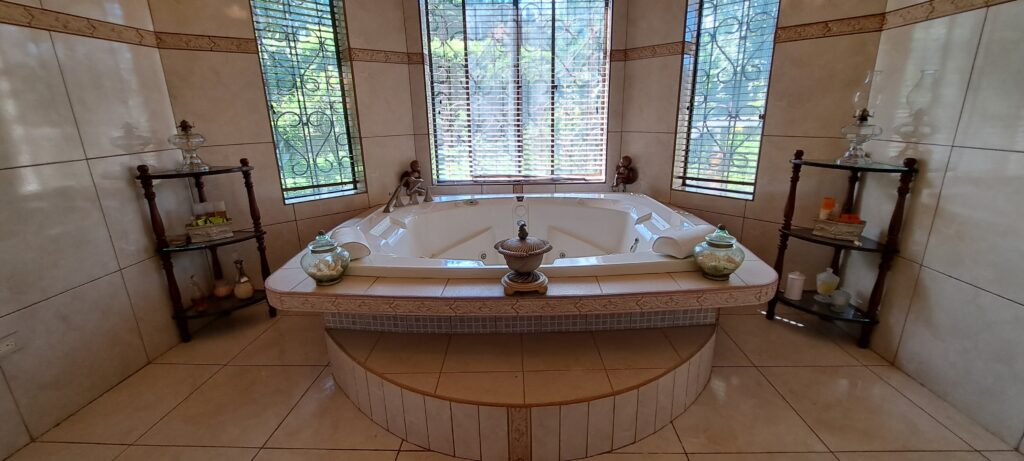 Beyond the dressing room is the bathroom with an amazing jacuzzi that is large enough for two. As well as a huge separate shower area, that is also large enough for two.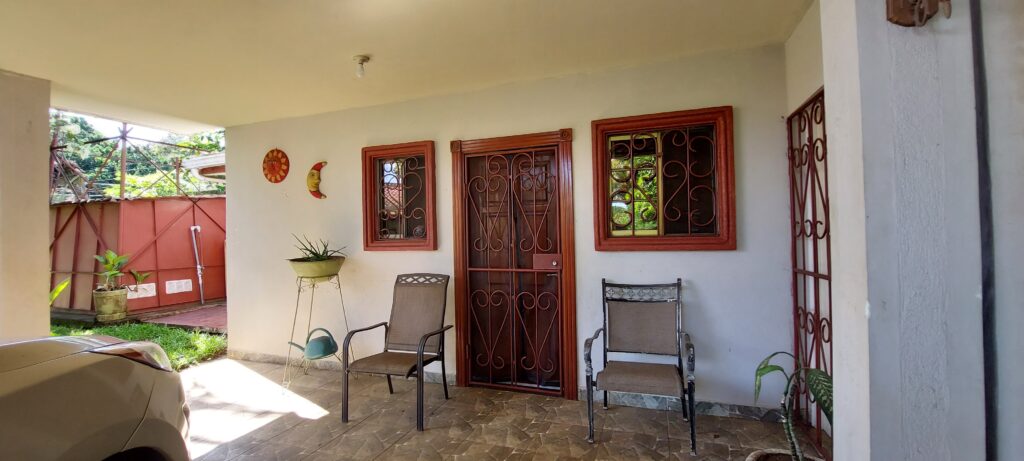 Attached to the garage is the studio apartment for a live-in housekeeper or your caretaker/cuidador. It also includes a private bathroom, kitchenette, as well as a patio area to sit and relax.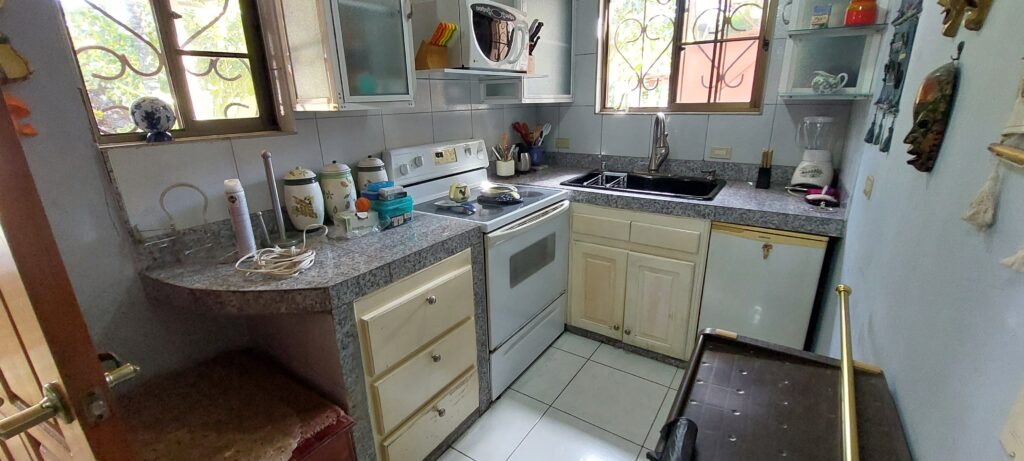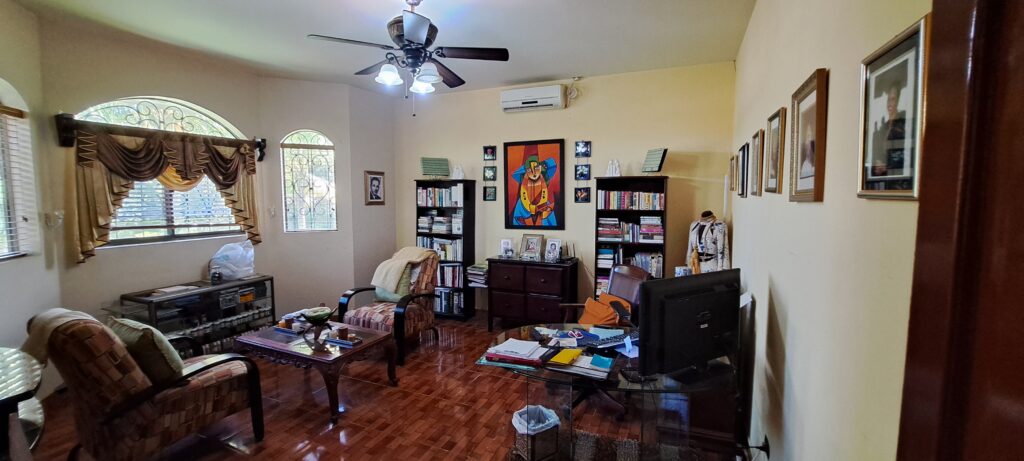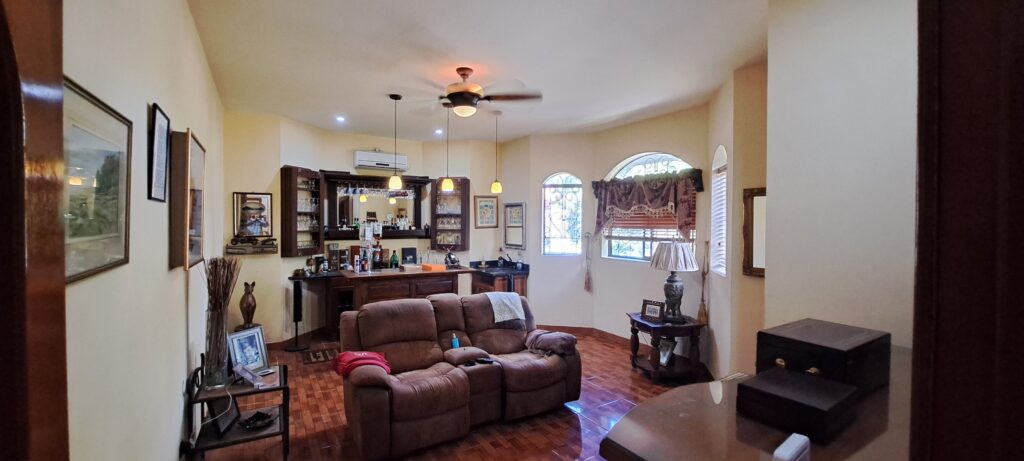 There are two further rooms that presently are being used as an office and a family room. Additionally the family room has an amazing large built in bar and a sink! After all we all need a room for entertaining family and friends for the big game.
With the extra office and super family room, if you need another bedroom or two you can easily convert them into your third or fourth bedroom.
---
🏠 Properties on the Market "CLICK ME" To find any kind of property around Nicaragua.
Remember 👉 "SUBSCRIBE" to my YouTube Channel. 🎁It's free!
Thank you for reading and visiting this website
Let's get down to business!