SOLD
- Commercial, exclusive listing, Office
CORPORATE BUILDING FOR SALE VARIOUS USES NEAR A BLOCK FROM HOSPITAL BOLONIA
PLEASE DO NOT DISTURB STAFF OR MANAGEMENT FOR INFORMATION ON THIS SALE. CALL ONLY THE LISTING AGENT TO SET UP AN APPOINTMENT TO SEE PROPERTY CALL 505-8688-0125
This Property being presented is currently used as a financial institution.
The current owners wish to sell and lease the property back from an investor.
The Seller is open to all potential buyer offers that desire to purchase the property for their own use.
This property lends itself to various potential investors:
• A medical center, since the current property is near the Bolonia Hospital.
• An Embassy needing to expand or needs a smaller footprint. This property can also easily be reconverted into an embassy executive mansion.
• Another financial institution
• A telemarketing or marketing office
• A professional office center for lawyers, accountants, and business advisory services
• Co-share office center.
The overall property land size is approx. 11,000 sq ft or 1,021 sq m and the building is approx. 9,400 sq ft or 873 sq m.
The property lends itself to multiple uses for an investor. The property has amble internal space to adjust to market needs and wants.
The following are the physical characteristics of this property:
• The property was practically rebuilt about 13 years ago.
•All utility services from drinking water, power, and telephone, internet.
•The power on-site is 110 and 220 volts.
•The property is fully airconditioned and has internet.
•The property is in very good condition and well maintained.
•The property overall characteristics are as follows :
Main Floor: Access, lobby, waiting room, reception, corridor, two internal patios, corridors, servers, two areas for centralized data computer systems, four offices, general management, legal management, system management, two business areas, two human resources, marketing, reception, financial management, server room area, accounting, operations, stationery, legal office, vice financial management, administration, boardroom, kitchen, dining room, nine sanitary services, eight parking spots interior, two laundry areas, terrace, living room, garage, and guard shed.
Upstairs: Hallway, conference room, and six offices and two bathrooms.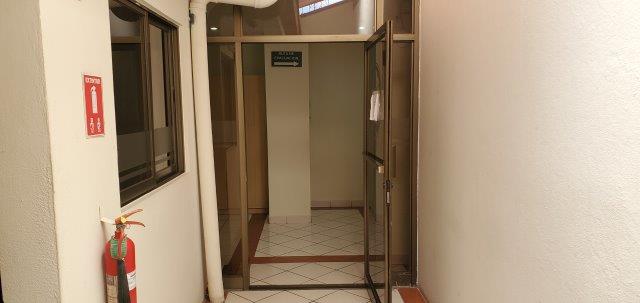 • Bathrooms ground floor the sanitary services for slats have two pedestal washbasins and two toilets with 3/4 wall tile shells and has odor extractor. A second sanitary service has pedestal sinks and toilets with tile shells at the height of the wall and has an odor extractor. A third sanitary service has concrete furniture for sinks, tile top, and toilet with 1/2 wall tile plate and has odor extractor. The sanitary services for gentlemen have two pedestal sinks and two toilets with tile caps at 3/4 wall, also have a urinal and has an odor extractor. Another toilet has pedestal sinks, a tile-plated toilet and 1/2 wall tiled plywood shower with an odor extractor. Upstairs two sanitary services have pedestal sinks and toilets with tile plate at the height of the wall and have odor extractor. The sanitary for CPF has simple Javamanos, toilet without tile plate on the wall. The legal management's sanitary service has simple sinks and toilets with 3/4 wall tiles and has an odor extractor.
A current floor plan is available.
•The kitchen features a wooden pantry, tile top, wooden drawers on top and bottom with 1/2 wall tile plate.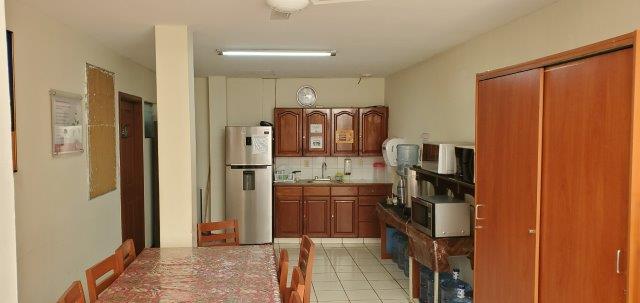 •It has a paint base and ceramic brick plywood in some environments.
•It has wooden moldings on the doors.
•The lighting system is by means of fluorescent lamps and spots.
•It has internal gypsum divisions on the top floor.
•The vault room is now a storage area.
•It has a ceramic tile floor.
•Building has 25% of its ceiling in wood and the remaining 75% gypsum.
•The garage area has a tiled floor, metal gate, and has a backup generator.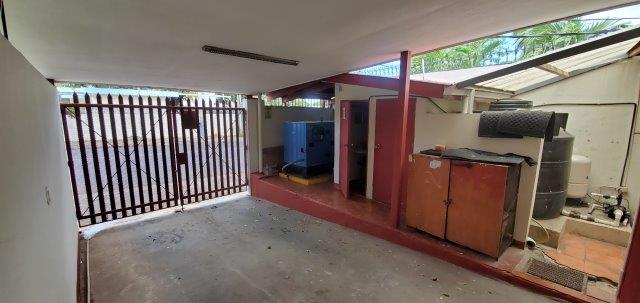 •Access to the upper floor is through metallic bleachers with laminated steps and a metal railing.
Upstairs the external walls are with covintec panel and internal walls are partitioned with gypsum.
•It has a perimeter wall of confined mamposteria of blocks and gates with angulars on the west border and with a perimeter wall of confined masonry of blocks on the southern and east borders. It has 6 electric fence yarns on the perimeter of the property.
•It has two tanks for water storage; one is plastic with a capacity for 2,500 liters with its hydropneumatic pump and the other tank is ethalic which is on a metallic structure with a capacity of 1,500 liters.