La Calzada, Granada (Municipio), Granada, 43000, Nicaragua
SOLD
- Colonial Home, exclusive listing, Residential
We have an amazing and a top-notch build and maintained 3 Bedroom, 3 Bathroom Home, with pool, rooftop and much more in The Gran Sultana, Granada, Nicaragua.
Phenomenal Colonial Architectural well-designed and renovated home by an engineer. Top-notch build and maintained 3 Bedroom, 3 Bathroom Home, with pool, courtyard/garden, Argentine BBQ area, and rooftop with exceptional views of The Gran Sultana, Granada.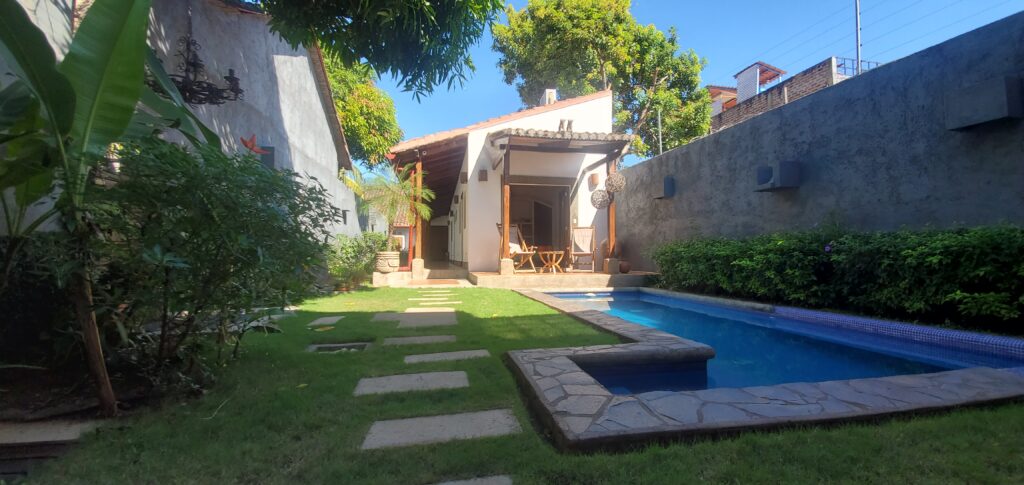 This home is ready to create your own oasis while living in the heart of Granada. As you walk in thru the main door of this home you will feel as you are in an old colonial villa that has incorporated handcrafted (Granada) Terracotta tiles, various hardy-wood beams structures in the walls, ceiling support beams, and high ceilings making this home not only structurally sound but also chic and contemporary while still providing the Colonial Style of Granada.
As you walk further into the villa you will find a large open kitchen where you and your loved ones can together create your meals and sit around the breakfast bar or dining table to chat and enjoy your meals together. The kitchen and a dining room open onto a lush, landscaped corridor with two cozy bedrooms each with its own bathroom. Inside the kitchen, you will find a large walk-in pantry to keep all your dry goods and other kitchen small appliances items.
The principal bedroom has plenty of natural light through two doorways to choose from, either the corridor or to the patio with a lush garden and pool.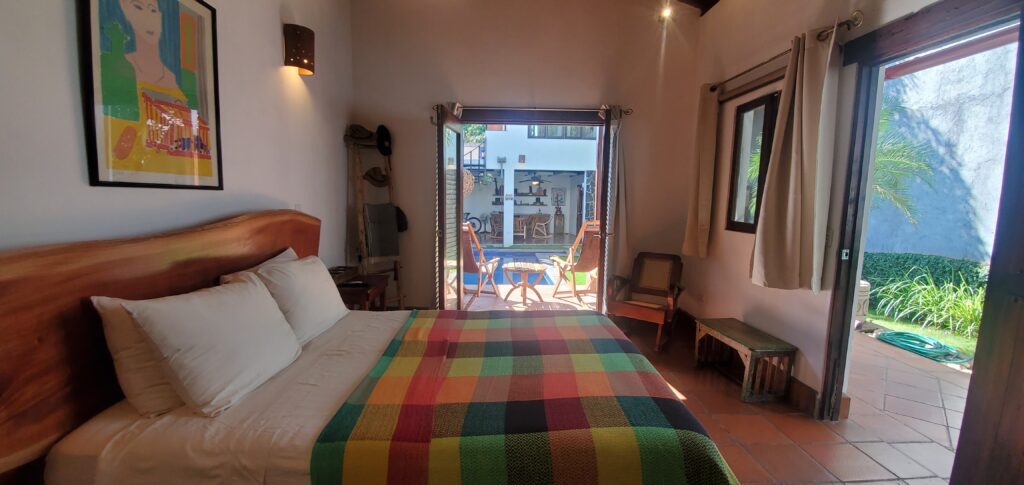 The family-friendly patio has a one-of-a-kind Argentine grill, outdoor shower, covered sitting area for entertaining, and ample storage. The staircase leads to a terrace with a sitting area, a covered bar, and the third bedroom with its own bathroom. The second level terrace is perfect for relaxing with your favorite book and beverage admiring the amazing views of the colonial church, Lake Nicaragua, and the Volcano Mombacho.
While being centrally located, you will find yourselves close to the plaza "La Calzada" (main entertainment district of Granada), with access to restaurants, bars, shops, boutiques, gyms, and within walking distance to the lake.
This home was structurally built to sustain any natural disasters and to be self-maintained. Solar-powered back-up, and water back-up, but connected to the town.
The home has many redundancies from water to electrical to ensure that the family is safe and sound and able to reside in the home during any calamity. The pool is your back up system if the water supply in Granada is not available, and connected to the home water system, this is in addition to the large water tank storage that is located underground. The electrical supply is from the solar, utility grid, and if everything fails you have a large industrial generator to supply the house with energy.
The built living area sq ft is estimated at 2,700 sq ft.
Our Nicaragua Real Estate Team is ready to assist you with any of your real estate needs and to offer a smoother transition! For more information regarding Nicaragua, please visit our YouTube Channel or our Blog.