Granada, 43000, Nicaragua
For rent or sale
from $175 - Colonial Home, exclusive listing, Residential
Nicauagua Real Estate rental colonial home Casa LA
A True Showplace!
Casa LA is like no other house in Granada. This beautiful remodeled home that has so many unusual and fun touches, we don't know where to begin!
As you enter the home, you encounter a comfortable and inviting living area, a great place to watch TV or read a book. Like all colonial style homes, the main focus of the house is the indoor garden and surrounding corridors. Casa LA surprises you with a raised living area, surrounded by water and the mango shaped swimming pool. The colors are vibrant with a Mexican flare that is fun and exciting. There is a beautiful open kitchen overlooking the garden area which is fully equipped with everything you need to enjoy a meal with friends. There is a large dining table for eight as well as a separate sitting area with custom-made banana leaf furniture.
Downstairs you will find three bedrooms, all with private baths, air conditioning and ceiling fans. There are two bedrooms with queen beds and the third has two twin beds. There is also a half bath and laundry room located on the lower level. This home also has a one car garage.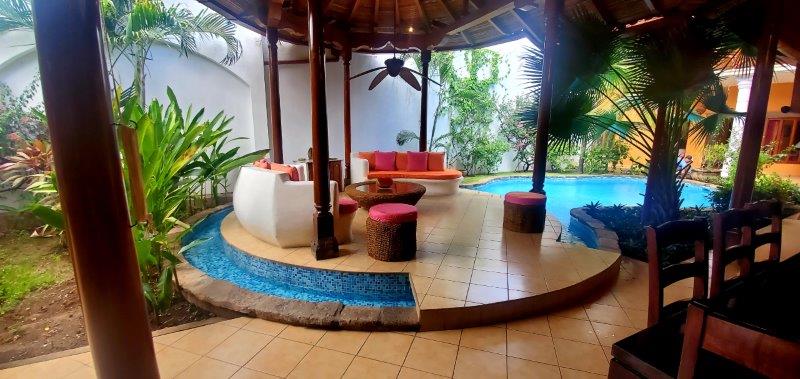 Upstairs, you will find a beautiful bedroom suite with a custom-made king bed. The patio has exquisite views of the church spiral and roof tops of Granada. The master bath is a place of luxury with beautiful stone and tile work, a rainfall shower, a Jacuzzi and a large dressing area.
Casa LA is a luxurious home with all the amenities located in the the colonial city of Granada. If you want to pamper yourself, your family and your friends, this is definitely the home for you, please call us at 505-8688-0125
Bdrms Daily Weekly
1 Bdrm $ 175 $ 1040
2 Bdrm $ 220 $ 1,360
3 Bdrm $ 265 $ 1,650
4 Bdrm $ 295 $ 1,900

Three Day Minimum Required
Please inquire for holiday and long term rates
This home is not suitable for Children under 12